ABOUT US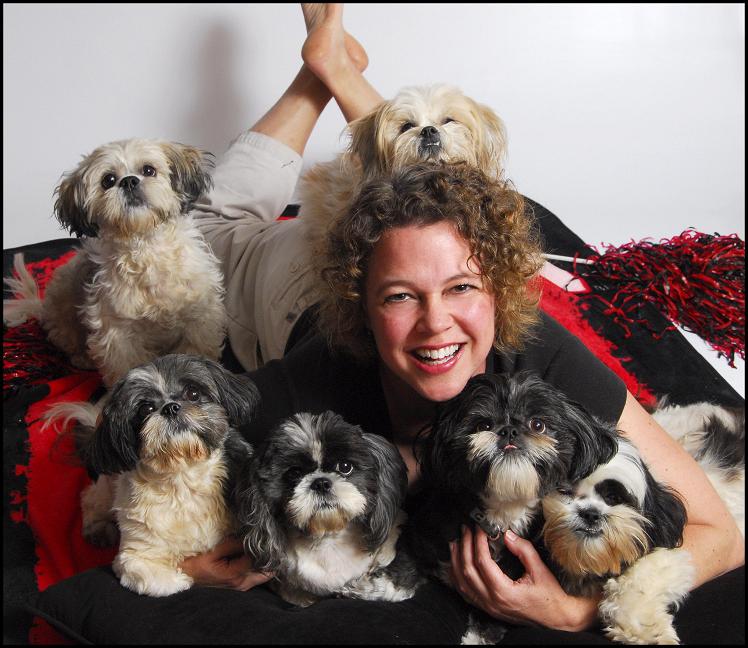 Hi, I'm Lisa Vogt, owner of The Dawg House and proud University of Georgia Alumna. After graduating from UGA I decided to make Athens my permanent home. I have been rescuing, fostering, raising and grooming dogs since my childhood in Atlanta but began my professional grooming career in Athens in 2001.
I've had careers working for the federal government with the US Forest Service and National Wildlife Service; in the third largest law firm in Atlanta; managed a hectic medical practice; held numerous office and managerial jobs as well as a few other careers but dogs have always been my passion and I'm overjoyed to be able to make a living operating a successful business working with dogs.
I believe strongly in volunteering since I was a "Candy Striper" at Northside Hospital in Atlanta when I was 16 and believe we all need to be active members of society giving back to our community. For The Dawg House I've chosen "Georgia English Bulldog Rescue" as our primary charity and recipient of complimentary grooming services, monthly adoption days, special events, funmd-raisers and more. Please visit the English Bulldog Rescue page on this website to learn more.
My hobbies include traveling the world (I've visited 18 countries so far), weaving, gardening, kayaking and camping. I'm married to a delightful German-Polish man, Chris, and we have a teenage daughter, Erika. We also include 6 Shih Tzu's in our family.
I enjoy annual Continuing Education courses which have taught me so much about canine health, skin & coat, breed standards, proper grooming techniques and so much more! I learn all I can about dogs and will try to answer your questions to the best of my ability. I stay current on grooming trends, new products and the latest in dog health. I incorporate the techniques learned from reading books written by Cesar Milan, The Dog Whisperer, and by watching his tv shows. I strive to be calm yet assertive to strengthen the bond of trust between the dog I'm working on and myself. I do not discipline the dog I'm grooming, instead I utilize many different tactics to calm and re-focus their attention. It's difficult for a dog to think of more than one thing at a time and by re-directing their attention I am able to accomplish the task at hand. I ignore or gently reprimand negative behavior and praise positive behavior and in this way train the dog to understand what I'm asking of them. For especially active or fearful dogs I use "The Groomer's Helper" to humanely restrain them on the grooming table.
I've learned a great deal about canine nutrition and how it affects skin, coat and overall health and encourage you to read the Canine Health page of this weebsite to learn more about the research I've done concerning what the major dog food companies are selling us. As you can see dogs are my passion and I look forward to meeting you, working with your little one and answering any questions you may have.

Continuing Education
Photo below is of Lisa (in middle) receiving Oster Ambassador's Certificate of Completion 2008 for participating in Oster Theater Continuing Education 3 Day Seminar from Judy Hudson, an Oster Ambassador and Chris Pawlosky, Judge, Author and National Training Manager for Oster Professional Pet Products. The other photo is of my professional achievements I proudly display in the Salon.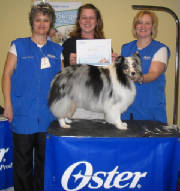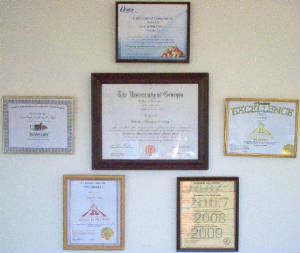 Professional Achievements

University of Georgia Diploma B.S.Ed. in Natural Resource Management, 1992

Member of the United States Certified Pet Groomer Program for NuVet Labs 2006-Present.

Certificate of Completion Oster Theater Continuing Education 3 Day Seminar 2008.

Certificates of Attendance Atlanta Pet Fair 2002, 2005, 2006, 2007, 2008, 2009, 2011, 2012
Global Pet Expo, Orlando, FL 2009

Professional Magazine Subscriptions

"Pet Boutique & Spa Magazine"
"Grooming Business Magazine"
"Groomer to Groomer Magazine"
"Georgia Magazine" UGA Alumni Association
Volunteer Experience

Athens Canine Rescue

Athens Area Humane Society

Athens Montessori School

Athens Mothers' Center

Bear Hollow Zoo & Wildlife Trail

Cedar Creek Civic Association

Cedar Creek Swimming Pool Association

Cumberland Island Sea Turtle Museum

Department of Natural Resources Wildlife Rehabilitator

Georgia English Bulldog Rescue

Girl Scouts of The USA as a leader for 3 years

Habitat For Humanity

Jekyll Island Bird Banding Station

Lanier Gardens Senior Living Community

Northside Hospital

Oconee Rivers Audubon Society

River's Alive Clean-Up

Sandy Creek Nature Center

St. Jude's Children's Research Hospital

State Botanical Garden of Georgia

The AIDS Memorial Quilt

USDA Forest Service

USFWS Okefenokee National Wildlife Refuge

Youth Conservation Corp