MAX & WALLY ARE BEST FRIENDS
MIA THE POMERANIAN PUPPY GETS A WONDERFUL NEW HOME
LITTLE LUCKY HAS COLLECTED A MOUND OF TOYS
SHIH TZU PUPPIES ARE JUST THE BEST!
MIA KNOWS HOW SPECIAL SHE IS IN HER PEARL NECKLACE
MIA'S FRIEND TEDDY is LOST
$300 REWARD ~ LAST SEEN NEAR BEN BURTON PARK 4-22-09
WHITE DOGS STAY WHITE WITH "SNOWY COAT" SHAMPOO
CLICK ON LUCY THE BICHON TO ORDER SNOWY COAT TO KEEP WHITE FUR ITS WHITEST!
IZZY GOES HAWAIIAN!
CHOOSE THE HAWAIIAN LOOK INSTEAD OF BANDANA & BOWS
AN OVAL FACE ON COCONUT IS VERY FLATTERING
"ARTY" WITH HIS NEW FAMILY
WE LOVE HAPPY ENDINGS!
MAX WAS VERY HAPPY TO BE ADOPTED BY HIS NEW FAMILY
BAXTER ACTING SILLY FOR HIS MOMMY
OSCAR THE PEKINESE IS SUCH A SWEETHEART
FUZZY CURLS UP IN THE PUPPY BASSINET
DUCHESS OF YORKY STRIKES A POSE IN FAUX LEOPARD!
CLICK ON DUCHESS TO ORDER A FRINGED LEOPARD COAT FOR YOUR LITTLE ONE!
BISCUIT THE BICHON IN HER PUPPY COAT
THE ADULT COAT COMES IN BETWEEN 10-18 MONTHS & CAN BE UP TO 26 TIMES THICKER!
MOJO YOU GOT IT GOIN' ON!
*SMART LITTLE JEZEBEL*
MALTI-POOS HAVE FANTASTIC PERSONALITIES
MYRNA ROSE HAS THANKSGIVING AT LISA'S
...IT'S A GOOD THING SHE LIKES DOGS!
LISA & LILI THE CAVALIER KING CHARLES SPANIEL
EBBY OUR PINK PRINCESS
YOU LOVED EVERYONE YOU MET ~ YOU'LL BE MISSED SWEETHEART.
FAMOUS LITTLE PEACHES
ADORED BY SO MANY!



TEDDY IS A LOVABLE LITTLE HANDFUL
CHARLIE'S A HANDSOME YORKY IN HIS NEW ADULT COAT
MANY BLACK YORKY PUPPIES TURN GRAY WHEN THEIR ADULT COATS COME IN
SWEET LITTLE ROSE WATCHING FOR MOMMY
ELVIS & PRECIOUS
HAVING 2 IS TWICE AS NICE!
JACK GETS TO GO TO WORK WITH HIS PARENTS EVERY DAY
GRACIE THE SHIH TZU LOVES TO GET GROOMED
A LONG FLUFFY COAT & TOP KNOT ARE ADORABLE!
MICHAELA, CRISSY & PAYTON
3 ADORABLE GIRLS!
WALLY GETS A "SMOOTHIE" SHAVE-DOWN
ALWAYS COMB AFTER BRUSHING TO FIND THOSE TROUBLESOME MATS AT THE SKIN
OH THOSE BEAUTIFUL GEORGIA GIRLS!
A NECK "NOOSE" IS NEVER USED AT THE DAWG HOUSE.
INSTEAD A "GROOMER'S HELPER" BELLY BAND GENTLY YET SECURELY HOLDS LUCAS ON THE GROOMING TABLE.
LISA & DOMINO AT VALENTINE'S DAY PHOTO FUND RAISER
RAISING ALMOST $400 FOR ATHENS CANINE RESCUE! CLICK ON PIC FOR PHOTOGRAPHER ANNE YARBROUGH'S SITE
TRIXIE IS A BRUSSELS GRIFFON ~ TOO CUTE!
HARLEY LOOKIN' TOUGH IN A MOHAWK
MISS EMMY WILL ALWAYS BE A DIVA DOG!
BOGIE COMPLETES THE FAMILY'S TRIO OF POODLES!
LISA'S DEAR FRIEND MARGO WITH HER SAMMY
POODLES LIKE PEPE NEED FREQUENT GROOMING
BEFORE...and...
HEY CUT THAT OUT ~ YOU'LL GET THE SCREEN ALL ICKY!



CANDY HAS 7 PUPPIES READY FOR NEW HOMES Oct. 1st
SHIH TZU PUPPIES ANYONE? 706-355-9911
TILLY LOVES TO PLAY DRESS-UP
MARTY ENJOYS A CONDITIONING WRAP FOR DRY SKIN
PERCY THE PRECIOUS POMERANIAN
HE'S THE KING OF THE JUNGLE IN HIS LION CLIP
INTERNS KIRIN & ERIKA LEARN TO GROOM
IT WAS GREAT WORKING WITH YOU GIRLS, THANK YOU!!!
TYBEE RECLINES IN ALL HIS SPLENDOR
KEEPING A MALTESE IN A FULL COAT REQUIRES TWICE MONTHLY GROOMING
JACK & TEDDY ARE HANDSOME SHIH TZU'S IN FULL COAT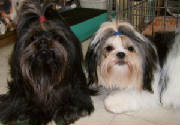 LIKE MALTESE, YORKY'S & LHASA'S, SHIH TZU'S ARE A DROP COAT BREED
BOB ENJOYS A BLUEBERRY FACIAL & DENTAL CLEANING
CLICK ON BOB TO LEARN MORE ABOUT THE SPA SERVICES WE OFFER!
CHRIS BATHING MCGIVER
ENGLISH BULLDOGS SHED A GREAT DEAL BUT SURE DO LOVE THEIR DE-SHEDDING TREATMENT!
JUJI IS A HANDSOME YORKY IN HIS FULL COAT
ISN'T MISS PRISS ADORABLE?
SHE'S A BICHON-SILKY DESIGNER DOG
SOPHIE LOVES HER PINK OUTFIT COMPLETE WITH PEARLS!
CHOOSE A PEARL NECKLACE FOR YOUR DOG TOO INSTEAD OF A BANDANA
LISA WITH JACK THE GOLDEN-DOODLE
POSSIBLY THE SMARTEST DOG EVER
LUCY & ERIKA GO EVERYWHERE TOGETHER
JACQUE MOLESTING HIS SANTA TOY :o)
A BICHON CLIP INVOLVES SCISSORING AS OPPOSED TO CLIPPERS BUT LOOK AT THE ADORABLE RESULTS!

BOSS THE YORKY PUPPY IS EXHAUSTED AFTER ANOTHER FUN DAY AT THE DAWG HOUSE
NINA'S POMERANIAN PUPPIES PREPARE FOR NEW HOMES!
JENNIFER WITH WALLY THE MALTI-POO
"MR. PERSONALITY"
EVERYBODY LOVES SAMMY
LISA WITH CRISSY ~ A LOVELY LITTLE SHIH TZU